16/Sept/2003

Hong Kong International Toys & Gifts Show

A Mega Show with Mega Offer
S ince its inception in 1992, the 2-part mega event Hong Kong International Toys & Gifts Show and Asian Gifts, Premium & Household Prdoucts Show, by Kenfair International Limited, has been going from strength to strength and it nowadays has become one of the largest trade shows of its kind held every October in Asia. Over the years, this Asia's mega event has made tremendous appeal for global buyers owing to its inexhaustible wide variety of Asian merchandise available to cater for every sourcing need. It is no doubt a mega marketplace providing a magnificent sourcing opportunity under one roof for all sorts of buyers.
The 2002 event has set new historic records in its scale and scope. A total of over 3,000 exhibitors taking more than 4,500 booths were featured in the show. It took up the maximum capacity of the venue Hong Kong Convention & Exhibition Centre with all halls as well as meeting rooms, concourses, atriums and even corridors being fully utilized for exhibition stands. Apart from the largest contingent of Hong Kong exhibitors which occupied almost 51% of booths, we got a rapid growing number of overseas exhibitors from Austria, Australia, Belgium, China, Denmark, France, Germany, India, Indonesia, Israel, Italy, Japan, Korea, Malaysia, Pakistan, Philippines, Portugal, Saudi Arabia, Singapore, Spain, Switzerland, Taiwan, Tailand, Netherlands, Turkey, U.K., U.A.E., U.S.A. & Vietnam, further strengthening the mega show a genuine international trade event.
The 4-day event has attracted a record number of 58,405 international buyers jetted in from around the world. We saw a great surge of the US and European buyers coming to the fair. Both buyers and exhibitors were very happy with the business results generated and most of them expressed keen intention to come back next year.
Further complementing the success of the show, the 2-part event has been formally accepted on 24 October 2002 as a UFI approved exhibition by the Union des Foires Internationales(UFI), whereas Kenfair was honored to be its full member organizer. The UFI membership signifies the highly professional standard and world recognition of the show with a label of quality.
This Asia's mega show is definitedly an all-important exhibiton that exhibitors and buyers alike cannot afford to miss.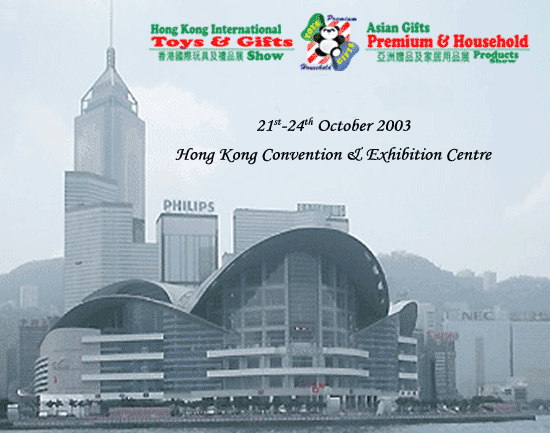 For More Infomation: http://www.kenfair.com/exhibitions/tg/tg_introduction.aspx